First Aid One Day Training
LAST DATE OF REGISTRATION19 Aug 2023
CLASSES COMMENCING FROM 20 Aug 2023
Course Description:
Introduction
First aid is the provision of initial care for an illness or injury. It is usually performed by non-expert, but trained personnel to a sick or injured person until definitive medical treatment can be accessed. Some of major objectives of first aid and CPR are to save lives, prevent further harm and promote recovery from the dangerous conditions.
This is program is totally practical oriented and our aim to develop the skills of any human, who can be able to save the lives of any human through first aid techniques. Further, if he or she will become in any injurious situation and they have would not have any sufficient medical treatment. So these First Aid People can help them out and save their lives from danger. This First Aid training program is a one day program and 3D EDUCATORS is offering the first aid training in Karachi as well at any location of Pakistan. 3D EDUCATORS is also offering the First Aid training in Lahore in collaboration with University of Lahore. Now our trainers will provide the complete set of training of first aid in one day. Schools, Organizations and industries can take the benefits of it.
What are first aid cases
First aid after cuts
First aid after wounds
First aid after burns
First aid after electric shock
First aid after dehydration
First aid after snake bit
Before performing first aid check
Fundamentals of first aid include
Cardio pulmonary resuscitation
Sources for consideration
Control of bleeding
First aid after burns
First aid after neck & spinal injuries
Lifting techniques
3D EDUCATORS offering oracle development course in Karachi, now collaborated with University of Lahore and offering oracle development training in Lahore, oracle development training in Islamabad, Oracle Development training in Rawalpindi and Oracle development training in Gujranwala and now the digital campus with Online training of oracle development can also happened.
DOWNLOAD DOCUMENTS
Trainer's & Consultants

MR. ZAFAR DAR
Independent HR Consultant
MBA, Lead Auditor of ISO 9001, HR Consultant

Over 25 Years of professional experience in the field of Human Resource Management and General Management & Marketing. He is expert and worked with Multinational, National Organization and established various organization on Senior Management Positions. Further, he was engaged in the area of Management Auditing and develop the procedures in various organizations. He also has been involved in the training & development for last 10 years with 3D EDUCATORS and conducted many workshops, training programs regarding Human Resource Management, General Management, Quality Management. Due to his vast Experience in the field of HR and Marketing, he has developed so many professionals in the market and known as a great speaker.

Pre-Qualifications of the Program

There is no as such pre-requisite of this program, as mentioned above that it is helpful for anyone, so all the school students and organizational employee should have to understand and learn this skills for their family and their society.

Concerned People Who can take Program

Candidate who would like enhanced their skills according to First Aid Can join this program, otherwise it is highly recommended that every person should have complete set of knowledge of first aid, because now it is the mandatory requirement to save human lives. Further, and probably it will also help in your home due to any injury or accidents.

Anybody can join who are willing to make his/her career in the field of Oracle and its environment.

Schools, Colleges and Universities Students.
First Aid and Fire Fighting Team
Health and Safety Officers
Fire Safety Officers
Health and Safety Inspectors

Job Oriented Course

In early decades of 20th century, to get the Job in open market is not the problem and every person after their graduation may have got the job in very easiest way. But in the 21st Century, it is a big task to first get the Job and after getting the job,it is more difficult to retain and upgrade your jobs. Now there is only one solution to retain and get the jobs in the professional market is to have the international certifications. 3D Educators is one of the training and development company that helps to develop and enhance your career and to provide the opportunity to train & update yourself according to market and its requirement.

Accreditation from

We at "3D EDUCATORS" is adopted the methodology of training with the international criteria. In this training program you can have the complete knowledge and skills regarding the above mentioned program. After the training, you are sound and capable to start the working in the same field. Further your certification will be endorsed you as a candidate and increase your worth in the market.

Market Demand

IT professional and technical certification to enter the IT industry, "3D Educators " From the world's leading IT companies issued by the occupational certificates, you have proved that a professional IT skills, and for the international recognition.

Early Bird Discount Date

Discount Available on Membership Only

Day & Time of the Class

Saturday 10:00 am - 4:00 pm

Total Fee Package

PAK Rupees:

Total Fee Package

PAK Rupees:

Total Fee Package

USD:
Get Professional Membership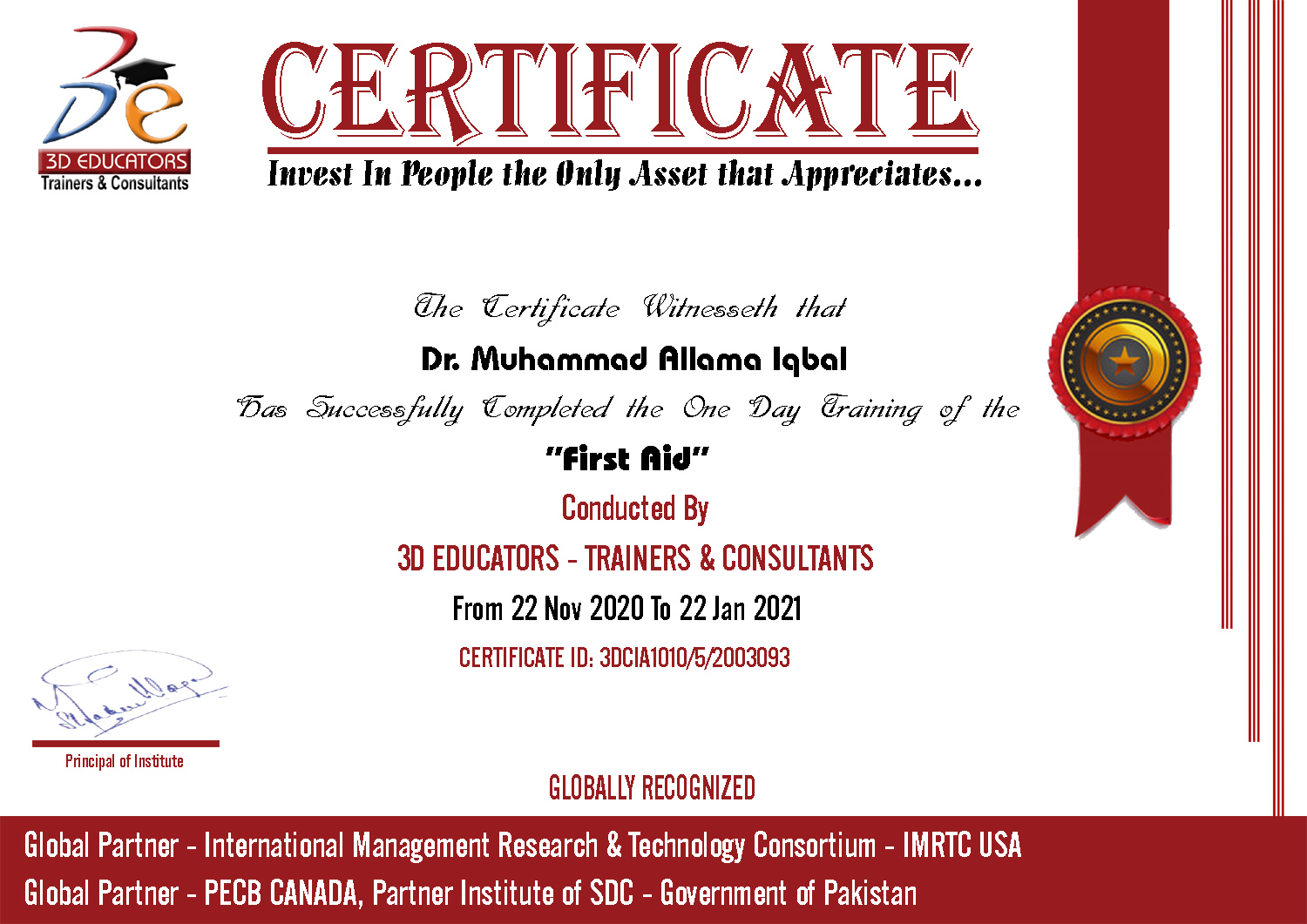 Students Google Reviews

Please Click here to read more reviews about course
Do You Want Enroll in...
21st Batch Starting
Book Your Course and Save Admission Fee
Query Form
TRADEMARK REGISTRATION FROM GOVERNMENT OF PAKISTAN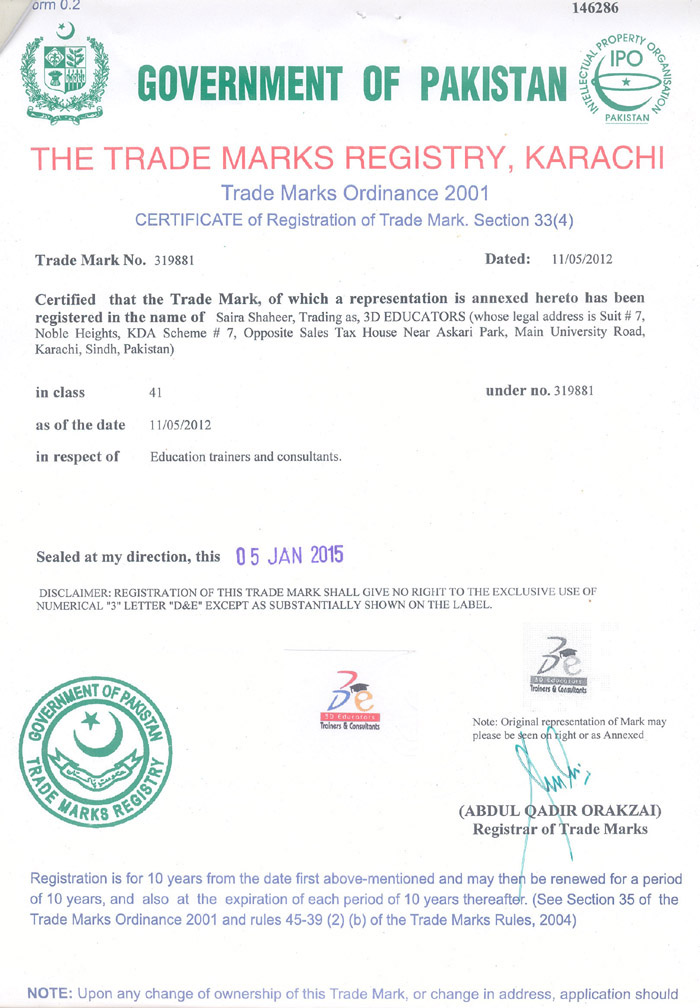 Our Digital Campuses & Affiliate Partners
No Affiliates and Partners